18th Annual Wear Yellow Ride, Run, and Walk
Saturday August 14th, 2021
PROCEEDS
Your participation is making a difference. 100% of our proceeds support Wear Yellow Nebraska's cancer fighting and cancer patient assistance programs. This event specifically supports the Wear Yellow Cab Ride Program and the Wear Yellow Grant Program.
REGISTRATION DATES & PACKET PICK UP
Online Registration is open and will be open through the week of the event. Those who register AFTER July 24th are not guaranteed an event t-shirt. Additional quantities will be ordered, but sizes will vary.
Packet Pick Up
We have four packet pick up dates as well as picking it up the day of. We encourage you to pick your packet up early, as it makes for an even earlier morning on the day of the event.
You can pick up your packet from 5:00-7:00 PM on:

August 10 Packet Pick Up @ The Bike Rack Lincoln – 33rd & Pioneers BLVD
August 11 Packet Pick Up @ Trek Store – 72nd & Jones St, Omaha
August 12 Packet Pick Up @ Greenstreet Papillion – 225 South Washington, Papillion (behind the store)
August 13 Packet Pick Up @ The Bike Rack Omaha 145th & Eagle Run Drive
We encourage you to pick up your packet at one of these times. This allows you to have more time to get yourself ready the morning of the ride. If you are unable to make it to one of these dates, you can pick up your packet the morning of the ride. Please arrive at least 30 minutes before your roll out time. For safety of all participants, helmets must be worn at all times and no motorized bikes will be allowed on the routes.
This is a rain or shine event and no refunds will be given.
We have limited volunteer spots available and spots are filled at the discretion of the Wear Yellow Nebraska Board of Directors.
Costs
We try to keep the cost of the event simple. $40 through July 31st, $45 through day of the event. T-shirt cutoff is August 1st, so be sure to register before to ensure you receive an awesome event t-shirt.
Distances
From a short cruise down the highway to a scenic loop over hills and countryside, you can experience the very best of summer in rural Nebraska.
For those craving roads, we offer 25, 35, 45, and 55 mile options.
For those craving less formal roads, we're excited to offer a new 27 mile beginners gravel option, and a 53 mile experienced gravel riders route.
For those on two legs, we invite you to participate in the approximate 5K Run & Walk through the beautiful, Mahoney State Park.
DEPARTURE TIMES & ROUTES
All routes depart from the Museum Durham Restoration Hangar
Ride & Run – Participants wishing to ride the 25 mile route and run/walk the Adventure 5K will depart at 7:00AM. You will need to complete the 25 mile ride by 9:50 AM to be ready to participate in the 5K Adventure Run & Walk starting at 10:00AM.
55 Mile Road Route
A challenging route with rolling hills and plenty of scenery. Remember, it's Nebraska and there will be a good headwind somewhere on this route. You earn a second set of pancakes for completing this route!
53 Mile Gravel Ride Route
For the adventure seekers that really want a workout. We've got gravel, minimum maintenance roads, hills, some trail and pavement, maybe a few farm dogs… but one heck of an adventure ride. Designed for riders who like their fat tire bikes, gravel and cross bikes, or their mountain bikes, this is the route for you. A semi-self supported route with one power stop through the farmlands of eastern Nebraska. 
45 Mile Road Route
A good mid-length route for those who want to get a workout in, but not push it too far. Filled with rolling hills, and a few decent climbs that will make you work for those sweets at the power stop. 
35 Mile Road Route
Like our 25 mile route, A good route to start the season with. If you took the winter off, and had to dust off your seat, this is a great route to start on. Add a few rolling hills to stretch those legs a little.
25 Mile Road Route
A good route to start the season with. If you took the winter off, and had to dust off your seat, this is a great route to start on. 
27 Mile Beginners Gravel Ride Route
A good training ride. Filled with hills, decent climbs, a few Strava sprint areas, and a good distance. 
The Run & Walk 
We don't want the cyclists to have all the fun!  No bike? No problem!  Lace up your walking/jogging/running shoes to help fellow Nebraskans in the fight against cancer. The Run & Walk will start at the SAC museum hangar and follow an approximate 3.6 mile course through the wide open spaces of Mahoney State Park.  While the majority of the route is paved, there is a short section between the SAC museum and Mahoney State Park that is grassy/gravel.  A Power Stop will be included at the half-way point.  New this year, we will have timing services provided by Be About. No Frills Timing Services.  Fun prizes will be awarded for our top three male and female finishers. A Power stop will be included at the half way point.
The event ends at 2:00PM. Courses and on course support, Expo Area, Power Stops and the Pancake Man will be closed at this time.
Please choose a route that you can complete by noon to take full advantage of the events at the start/finish. 
FUNDRAISING OPTIONS
We've now made fundraising even easier! I mean, doesn't this site look awesome? For this year's event we've have fundraising option for individuals or teams. While not required, if you are interested in raising money for a great cause, click here to register and start your own fundraising page today.
VIRTUAL RIDERS, RUNNERS & WALKERS
Maybe you don't ride a bike, run, or like to go on adventure walks but know someone who does. Maybe you can't participate this year but still want to support our cause. We've made that easy too! You can help support Wear Yellow Nebraska by registering as a Virtual Rider/Runner/Walker. You don't have to actually ride, run, or walk, just support our organization and our event participants virtually.
 
The fee for Virtual Riders/Runners/Walkers is the same as an event participant. And just like our other participants, you will be making a difference. The fee for each virtual rider also supports one round trip cab ride through our Wear Yellow Cab Ride Program for a cancer patient who may not have adequate transportation to get to their treatments. Virtual Riders will also have the same fundraising opportunities as our event participants, including setting up your own fundraising team. You can register to become a Virtual Rider at any time up to the day of the event.
RAFFLES

Everyone loves a raffle, and this year we've gone even bigger!
Legendary Raffle – 11:45 AM
The Legendary Raffle gets its name from the legendary items that have been up for the taking over the past years. It will start
at 11:45 AM. We encourage you to
browse our collection of amazing raffle packages. Raffle tickets can be purchased and placed in the package bucket of your choosing. Purchase as many raffle tickets as you like to increase your chance of winning that package.
POST RIDE EVENT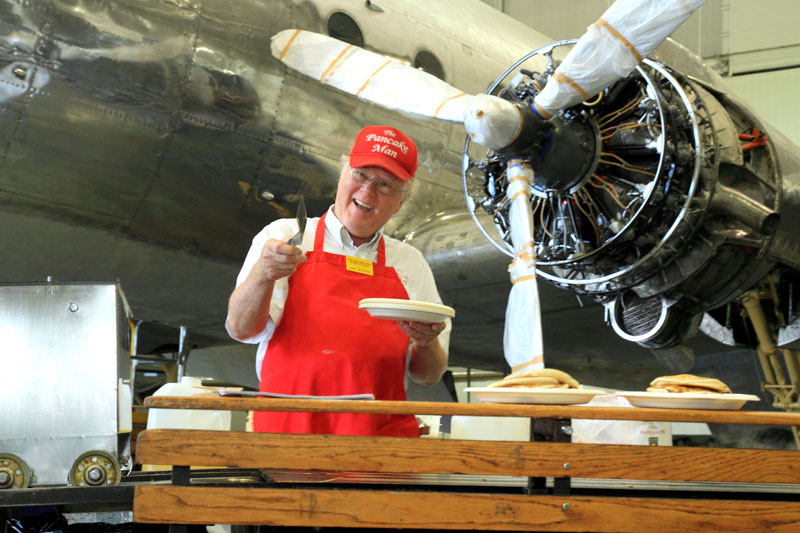 Take your helmet off and stay awhile. Riders are encouraged to stick around after the ride for breakfast by the Pancake Man, our legendary raffle, and dozen of door prizes. Each paid registration will be granted free access to the museum following the event. If you have hungry family or friends who did not ride or run, they can purchase a breakfast from the Pancake Man for $5 each.
POWER-STOPS Until 1:00 PM
Need some food? Need some drink? Need some power? We've got you covered! All rides are on public roads and fully supported with water, Gatorade, and a variety of food at our Power-Stops. Check the course map for Power-Stop locations along your route. Would you like to sponsor a Power-Stop? Email us for details.
ON-COURSE SUPPORT Until 1:00 PM

Your bike is in great hands. The Trek Store, Cycle Works, and The Bike Rack are on board when you need support. They will be providing mechanical assistance to riders at various locations throughout the day as well as a couple of our great volunteers who will be riding and driving the courses to support you. This includes changing a tire and performing minor drive train adjustments to keep you rolling to the finish.